---
Immerse yourself in sound and discover: I am an Insect!
13

Jun 2017

This year, Forest of Imagination are delighted that Martyn Ware, now a Trustee of Forest of Imagination, is back. Martyn, and his son, Gabriel Ware have composed and created a unique, playful and immersive sound experience for Forest of Imagination, which will be hidden in a forest dell in the ancient meadowland of Bushey Norwood. 

Martyn Ware found fame at the height of the new wave, electronic and synthpop music era at a time when immense shoulder pads and brick-sized mobile phones went hand-in-hand: the mid-1980's. Born in Sheffield, he was a founding member of two of the most respected groups at that time; The Human League and Heaven 17.

The immersive soundscape, designed especially for Forest of Imagination 2017, will offer children and adults the chance to wear specially created sound helmets, and imagine themselves as living creatures on a tiny scale, moving around this tiny, new alternate sonic reality, interacting with other creatures, whilst being immersed in the most beautiful music and sound.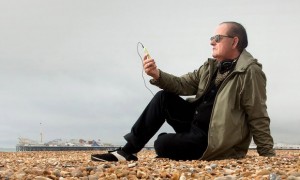 Martyn: "Our Illustrious immersive 3D soundscape work matches the overall concept of Forest of Imagination perfectly – in this instance we will be creating a magical sound world in a beautiful natural dell, with speakers concealed in the trees and undergrowth, surrounding listeners in a unique world of animal and insect scale. 
It will be like participating in an invisible world as one of the insect characters – something children will never forget…"
Forest of Imagination reinforces a renewed interest in the countryside around the city through the Bathscape Project and highlights the importance of engaging people, especially children, with the experience of nature and outdoor play. The National Trust is a key partner in this year's event and this project will be a real focus for their own promotion for active engagement of children in the countryside.
The surround sounds, which use height, as well as 3D speakers, provide a totally immersive auditory experience so that as you walk through and amongst the sound scape your mind is transported into pure experience.
Martyn adds: "I really enjoy creating large scale public realm sound and interpretations of sound. The sound scape is more impressionistic and artistic and less linear than a normal musical composition. It is a pure experience – even dogs and babies in pushchairs react to sound."
This year's Forest of Imagination will connect people to nature in a variety of wild and imaginative ways. Forest is open from June 30th until July 2nd from 10am to 6pm every day. Forest of Imagination is free to all.
For directions to Forest check here.