---
Martyn Ware to Create an Immersive Soundscape in Bath Abbey
28

Apr 2016

Martyn Ware found fame at the height of the new wave, electronic and synthpop music era at a time when immense shoulder pads and brick-sized mobile phones went hand-in-hand: the mid-1980's. Born in Sheffield, he was a founding member of two of the most respected groups at that time; The Human League and Heaven 17.

This year, Forest of Imagination are utterly thrilled to have Martyn on board working with the creative team to produce the unique playful and imaginative experience that is, Playful Bath's – Forest of Imagination.

Today, Martyn produces, with his company Illustrious: sound scapes, compositions which Martyn describes as: 'sonic murals, murals for the public but in sound'.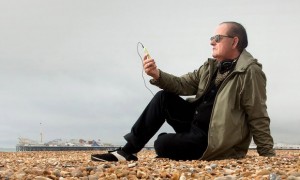 This architecture of sound is devised to envelop you with fantastical, magical and realist audible music, which is made up of musical notes, sounds from the natural world, human speech, poetry and other tonal elements we can only imagine and dream of.
The surround sounds, which use height, as well as 3D speakers, provide a totally immersive auditory experience so that as you walk through and amongst the sound scape your mind is transported into pure experience.
Martyn: "I really enjoy creating large scale public realm sound and interpretations of sound. The sound scape is more impressionistic and artistic and less linear than a normal musical composition. It is a pure experience – even dogs and babies in pushchairs react to sound."
The Forest of Imagination this year is taking place around and inside Bath Abbey. A complete immersive journey will take place. Total transformation both visually and audibly will happen inside the historic Abbey. Meanwhile, Martyn will create a sonic mural of a British forest in Abbey Green and a further Illustrious soundscape will be created inside a large piece of art.
"I love Bath, it is such beautiful location. The Abby is an incredible building – there is such a huge amount of light flooding into it – churches are designed to be immersive experiences, the sound is amazing inside and the look is unique and while you are inside these buildings you are transported to a different place. Churches and buildings of contemplation and faith are designed to allow you to open your mind – to have a spiritual experience using sounds and light."
Throughout the 1980's and beyond Martyn went on writing, producing and performing in music eventually working as a record producer with, amongst others, Tina Turner, Terence Trent D'Arby, Chaka Khan, Erasure, Marc Almond and Mavis Staples.
Today, his work includes developing a sound scapes and other Illustrious projects for organisations such as BP, The British Council, Sony Computer Entertainments Europe, The Science Museum, The Royal Ballet, The V&A, Amnesty International, Unilever, Museum of London.