---
The Vision: Bring Creativity to the Streets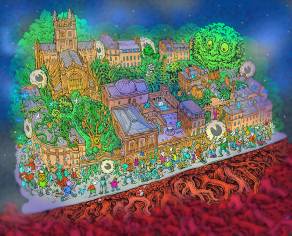 17

May 2016

Flourishing in the collaborative heartland of Bath is a collusion of enlightened thinkers who believe creativity, imagination and the environment should be at the heart of thinking, education and our urban landscape.

Together they developed a concept to bring this idea to life, to literally usher creativity into the streets, to remind the public that creativity is at the heart of our city and the centre of learning.

Championing their idea they have gathered: artists, teachers, scientists, musicians, actors, architects, writers, designers and more to bring, what is now, the much anticipated, Forest of Imagination, into the city of Bath.

The Forest of Imagination is a four-day phenomenon which opens on Friday 3rd June and runs until 6pm Monday 6th June.

This team is made up of a collective of creative, cultural and educational organisations in Bath, which includes, Grant Associates, 5x5x5=creativity, Imaginnovation, Feilden Clegg Bradley Studios, Herman Miller Cares and Bath Spa University.